If anyone could help in any way it would be greatly appreciated.
To start off I have three hard drives that I was migrating data on to one single 6TB WD external hard drive that was allocated as "DRIVE (I
" . For two of the drives I was moving all the data I wanted by just cutting and pasting on to the new 6TB external drive, but the third drive was bootable with windows so I was looking to clone onto the 6TB external drive. At this point I have 800GB of data on my external drive from the other drives. I go to clone the drive with "Macrium Reflect" and I ended up getting an error of some sort that I can't remember so I ended up making a new partition on the 6TB external drive that was 600GB so it could fit the clone thinking it was going to work, which it did work. About 10% the way through the cloning I noticed that my (I
partition with the 800GB of my data on it SOMEHOW became unallocated so I aborted the clone, now I am sitting here lost not knowing what to do. I'm unsure if this would be an easy fix to get my data back or not which is why I am posting here. I also summited a ticket on Macrium Reflects website, but since I was using the free version of their software it's highly unlikely they are going to respond.
I will provide a picture of what my external drive looks like now in disk management. The drive circled in red is the drive I was cloning and the drive circled in green is the external drive after trying to clone.

I will also provide a picture of the log of the clone if that is of any help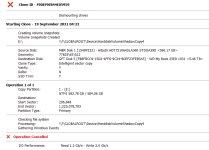 I appreciate any help in advance