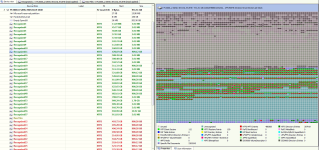 Not sure how to get the best result possible from this one.
Customer is a teacher, needs standard office files, pics and vids from drive. Drive had been elsewhere
discussed here
and after replacing the heads and weeks of imaging I've finally got all that can be read. Unread blocks are located mainly in the first 10% of the drive in a few clumps and then scattered, but remaining 90% of image is read. Bad blocks = 200Mb.
So, using R-Studio, I scan the image and it reveals lots of partitions, all with different start positions and sizes. I've opened 'recognised 11' and it gives me a folder structure of the guys files but they are all junk, even though R-Studio states recovery chances are good (green dots). Usually I would just select the RAW files option and be done with it. But this guy has been messed around a lot already, so I want to be sure I'm giving him the best result that is possible. (I would also like to get paid for this headache of a case
)
Is it pointless looking at the rest of the green partitions (each partition takes about 2hrs to process, as he has millions of files) ?
Is R-Studio the best for processing RAW ?
Is Data Extractor better for processing RAW and attempting to split good from bad ?
I always hate the fact that RAW includes lots of corrupted files with the good files, but I don't know of any way that can solve this issue.
Can anyone else help me be better than what I've already managed so far ?
Thanks as always guys.