Hi there!
We are pleased to annonce a significant improvement to our website
driveforparts.com
/
drive-for-parts.com
.
We developped a new payment widget that let you pay a product (hard drive, pcb or usb flash drive) directly in your currency.
This mean that when buying product you can directly use your PayPal balance in USD, EUR, RUB, GBP, CAD, PLN or CHF to pay without having to suffer conversion fees!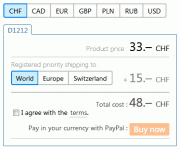 This animated gif above shows you what it looks like.
As you can see, we also integrated shipping costs in the widget, and there are three destination regions : World, Europe, and Switzerland.
We also simplified: all shipments are "registered priority" with tracking, transportation insurance, and signature on delivery
(as the Swiss Post will disable economic shipping on January 1st, 2022).
If you are in Russia, in Great Britain, Ireland or Turkey, and some other neighbouring countries you can still benefit from the lower shipping costs for Europe as it depends on postal pricing regions by the Swiss Post (and not on EU membership). In case of doubt, please ask us.
In the widget, the currency and the region are totally independant.
This is especially useful if your PayPal account is multicurrency, as your possibly received funds in a currency that isn't your main currency.
Instead of converting your funds and loosing money on poor exchange rates, spend them by buying hard drives from us!
Last but not least, for those of you who are not users of PayPal or prefer paying by bank transfer, we accept, without currency conversion, bank transfers in the following currencies : EUR, USD and CHF.
One last word about the currency rates we apply. There are based on both the average monthly rates published of the Swiss Federal Tax Administration, and those published by Xe.com. Something in the middle. (Much better rates than those applied by PayPal.) We update them around once a month.
Hope you like it!